BUSR Promo Codes $2,500 Welcome Bonus
About BUSR Sportsbook & Casino
BUSR is an internationally acclaimed gaming company with offices located in the United Kingdom and the Americas. In 2021, the company received a Gold Medal performance rating of 96% from Zendesk, and proudly sponsored Roc Nation Sport's Tramaine Williams during his middleweight fight against Angelo Leo on Showtime Championship Boxing. The following year, BUSR also sponsored Jamel Herring, the WBO Junior Lightweight Champion, during his title fight against Carl Frampton at Caesars Palace Bluewaters Dubai.
Moreover, BUSR collaborates with the UNLV Lee Business School to provide unbiased polling data on US elections, including the US Presidential Election, Georgia Gubernatorial Election, and the 2022 North Carolina Senate Republican Poll. Their polling data is frequently used by top forecasters, such as FiveThirtyEight, 270ToWin, and The Hill. Additionally, BUSR's odds and color commentary are distributed to multiple publications, including ESPN, Sports Illustrated, Newsweek, and The New York Times.
BUSR guarantees transparency and respect for their members and community, striving to provide them with the best gaming and entertainment experience in the world. The company's ultimate goal is to ensure customer satisfaction by making every effort to meet their needs and expectations.
Promotion
sportsbook Code : SPORTS100FP = 150% Up to $2,500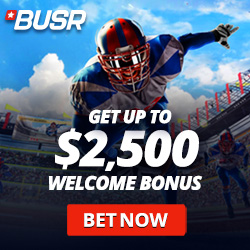 SPORTS100FP
Sportsbook Crypto : 100CRYPTO = 100% up to $1,000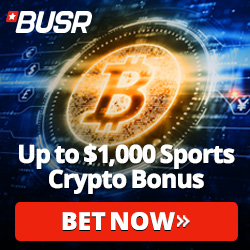 100CRYPTO
Casino Promo Code : NEWCASINO100 = 100% Up to $2,500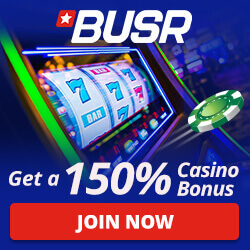 NEWCASINO100
CASINO Crypto Deposit 50 Free Spins = SPIN50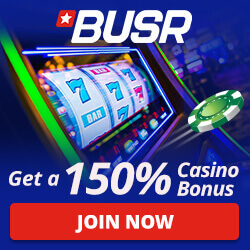 SPIN50
Racebook $150 Bonus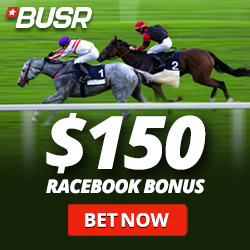 No Code
---
BUSR Promo Codes Casino
Promo code NEWCASINO100 : 100% New Member Casino Bonus up to $2500 with your first deposit.
Promo code CASINO50 : Cash Bonus up to $1250. Every time you deposit $100 or more.
Promo code SPIN50 : 50 Free Spins using Crypto. Deposit $100 or more using Cryptocurrency.
Promo code SPIN25 : 25 Free Spins. Make a minimum deposit of $100 and
Redeem all promos on the Cashier's Page.
What Type of Casino Games does BUSR have?
Slot, Video Poker, Blackjack, Roulette, and Baccarat.
Can I Play Casino Games for Free at BUSR?
Yes. To play games for free you will need to sign up with BUSR.
Can I Play Casino Games For Real Money at BUSR?
Yes. Sign up with BUSR and play all games for real money.
What are the Deposit & Withdrawal Methods at BUSR?
Credit Cards, Debit Cards, Bitcoin, Bitcoin Cash, Litecoin, and Person to Person Money Transfer.
Does BUSR have a Casino App?
BUSR Mobile is compatible with Android and iOS devices. Use it anywhere anytime on your Apple or Android device.
BUSR Promo Codes & Bonuses
BUSR Promo Codes Sportsbook
Bonus amount: 150% up to $2,500
Deposits: 1st deposit up to $1,000
Bonus code: SPORTS100FB
Rollover: 10x
Minimum deposit: $100
Bonus expires after: 30 days
The initial welcome bonus from BUSR is up to $1,000 in free play. Free Play is offered on major sports such as; NFL, MLB, NHL, NCAA, and NBA.
The rollover is 10x and the rollover applies to both the deposit and bonus amount.
---
BUSR Promo Codes Sportsbook Crypto
Bonus amount: 100% up to $1,000
Deposits: 1st deposit 100% up to $1,000
Bonus code: 100CRYPTO
Rollover: 10x
Minimum deposit: $100
Bonus expires after: 30 days
This bonus requires a promo code from BUSR This is bonus is credited on your first cryptocurrency deposit. It's offered to new players and existing customers making a cryptocurrency deposit for the first time.
Supported crypto include Bitcoin, Solana, Shiba Inu, Litecoin, Ethereum, Cardano, and several others. Subject to change so verify that the coin you are using is currently accepted.
---
BUSR Sports Existing Customer Offers
BUSR offers multiple offers to existing customers which will be based on your betting history and deposit history. The Reload bonuses and are matched deposit offers much like welcome bonus offers. BUSR also has horse racing rebates.
BUSR Sportsbook No Deposit Bonus
BUSR does offer a no deposit bonus offers from time to time. This bonus will require no deposit and will usually be a free play bonus.
BUSR Sportsbook & Casino
General House Rules
All rules and regulations are subject to revision by BUSR without prior written notice to BUSR members.
The management of BUSR reserves the right to refuse or limit any bet and to restrict betting on any event at any time without any advance notice.
Any service that BUSR offers is intended for recreational players only. We reserve the exclusive right to refuse, limit or close any client account if we find that it is being used otherwise.
BUSR permits only one (1) account per person, household, IP address and shared computer environment, such as a public library.
You must be at least 18 years of age and of legal age in your jurisdiction to use our services.
You must have funds in your account to place a wager. BUSR does not offer credit at any time under any circumstance. Proof of payment must be made before BUSR credits your account balance. Wagers will not be accepted if you do not have funds in your account balance.
If you have a claim on a bet, you must contact us no later than one (1) week from the day the disputed bet was placed. Claims will not be honored after this period.
Claims on bets will normally be solved within 24 hours of having received the complaint.
Generally, postponed and/or rescheduled sports events will constitute a No Action Wager, and money will be credited back to the account once the game has been officially postponed. Certain sports have exceptions such as Soccer, Tennis and Golf matchups where wagers may be valid for 24 to 48 hours.
All wagers must be placed and accepted before the start of the sporting event being bet upon. Any bet placed after the event has started will be void unless approved by a manager.
BUSR reserves the right to close any account or group of accounts if they are suspected of fraud and/or abuse of our bonuses program. In the event an account or group of accounts are found within the BUSR system, with which the customers have conspired to fraudulently or maliciously manipulate our line offerings to guarantee themselves profits regardless of the outcome of the events, BUSR reserves the right to cancel any or all wagers and profits derived from such fraudulent activity as well as terminate the accounts in question permanently.
BUSR's management reserves the right to refuse or limit the maximum amount allowed on any wager prior to acceptance of such wager. Members are not permitted to open multiple accounts either in their name or someone else's in order to circumvent the limits imposed by our management. If multiple accounts are used, all bets will be void and profits will be reversed.
All horse wagers must be placed two (2) minutes prior to the start of the race.
BUSR reserves the right to suspend any of its products at any time. When a product is suspended, any wagers entered will be rejected. BUSR also reserves the right to cease wagering on any of its products indefinitely at any time without prior notice.
In the case of an evident mistake on the posted line, scheduled time or maximum wager, all wagers will be deemed "no action", and funds will be credited accordingly. No player can benefit from wagering on a clear error in our lines, scheduled times or maximum wager limits.
When wagering on half-time lines, the overtime period(s) are included as part of the second half.
All minimums, maximums and betting payout prices are subject to change without prior written notice.
Maximum payout for any parlay is $100,000 (USD) and maximum combined daily winnings for any account is also $100,000 (USD).
You cannot parlay the same team with both the point spread and the money line. Multiple bets including parlays, teasers and if bets or reverses are not accepted where the outcome of one part of the bet contributes to the outcome of another; as these are considered correlated plays. It is also prohibited to parlay, tease or play if bets with spread and total of any game where the full game spread is approximately one-third (⅓) of the total for the full game.
Any loss in a teaser will result in the entire wager to be a LOSS. In the event that any of the teaser selection is a PUSH or TIE the following rules apply:

Special Teasers: Any TIE or PUSH is considered a LOSS.
2 Team Teasers: If one team ties and the other wins then the teaser is a PUSH (TIE + WIN = PUSH); or if one team ties and the other one is a LOSS then the teaser is a loss (TIE + LOSS = LOSS).
Any Teaser of more than 2 teams: a PUSH reverts the teaser to the next lowest level and the payout will be recalculated based on the new number of teams.

Free Plays are only allowed on major sports and cannot be used on prop bets. Free Plays can ONLY be used as straight wagers. Buying points is not allowed in free plays.
If funds are credited to your account in error, it is incumbent upon you to notify BUSR of this mistake without delay. For accounts with negative balances, BUSR reserves the right to cancel any pending plays, whether placed with funds resulting from the error or not.
All winnings will be credited to the customer's account. Any winnings credited to an account in error are not available for use and BUSR reserves the right to void any transactions involving such funds, either at the time or retrospectively.
BUSR is a recreational racebook. Steamers and/or originators are not accepted. If an account happens to fall under any of those 2 categories (steamers and/or originators), management has the right to revoke free plays, cash bonuses and/or winnings and to limit and/or close the account.
BUSR defines "Playing Steam or Chasing Steam" as follows: Deliberately wagering on a line that is moving across several betting offices before it has been moved at our establishment with the purpose of gaining an advantage, this is also typically known as playing moves.
BUSR requires equal dollar amounts of action between full games and derived events. Derived events include but are not limited to: live betting, quarter betting, team props, player props and minor league sports determined at the bookmaker's discretion.
BUSR reserves the right to suspend any account based on abusive behavior from the customer towards any staff member of BUSR. The account may be re-opened after a warning has been issued to the client, however if such abusive behavior continues management reserves the right to terminate the account permanently.
House Rules will supersede at all times any verbal or written offering of any staff member of BUSR.
Bets Placed Over the Phone
When calling BUSR the customer must give their personal account number and their password before placing a wager or gaining access to their account information.
All conversations will be recorded in case they are needed in the future to settle any discrepancies during a phone call. The recording will be reviewed and will settle any disputes. After reviewing the recording, the wager will be adjusted accordingly.
When receiving the final read back on a phone call from the customer service operator, it is up to the customer to listen carefully and verify that the wager(s) was read back correctly.
Once the customer has confirmed the read back, all wagers will be confirmed. After accepting the read back, the only way that a wager will be cancelled is if the customer places a wager on the opposite side of the original wager.
If a dollar amount has been placed on a wager and the phone call is disconnected or lost, it is up to the customer to call back. The customer will have to call back before post time to assure that the wager was accepted and placed correctly.
All actions will be carried out and completed if the correct username and password is provided.
Bets placed over the Internet
The customer must log in using their Personal Account Number or email and password to wager or access their account information.
It is the customer's responsibility to keep their password secure. All wagers placed in the account will be binding. Any unauthorized use of an account is the sole responsibility of the account holder and BUSR cannot be held liable.
It is the customer's responsibility to review the wagers before submitting them, and before logging out to make sure all bets were placed correctly. All wagers placed over the internet are final, and cannot be changed or deleted.
The minimum wager on horse racing events is $1 (USD) depending on the track.
Horse Wagering
BUSR provides non-parimutuel wagering on horse racing for more than 200 racetracks around the world.
All horse wagers will follow the rules detailed here:
A time stamp will be placed on all horse wagers and wagers must be placed 2 minutes prior to the start of the race.
Bets will not be accepted after post time. In the event that the race starts before the advertised post time and for that reason the customer is able to place wagers after the race has started, all wagers are void.
All wagers are made on the saddlecloth/gate or program number, not on the horse's name. In the event there is a mismatch between the horse's name and the saddlecloth/gate number, only the number will have action.
We take extraordinary measures to ensure that all information presents on the website is accurate and timely. However, errors can occur even with greatest of scrutiny, and if any conditions appear on screen that are inaccurate or outdated, we reserve the right to rectify or amend any mistakes and settle any previously made bets at the correct price.
BUSR will not be liable for wagers that were unsuccessfully entered before post time. We recommend that our clients check their pending wagers before logging out of their accounts to ensure the wagers were placed correctly.
All wagers are final once they have been confirmed and submitted.
There is a maximum payout for exotic bets and that is capped based on the class of the track.
We reserve the right, at our discretion, to change, modify, add or remove customers from our rebate programs at any time.
Rules regarding criminal activity, fraud or collusion.
If there is reasonable cause to believe that you are involved in any type of criminal activity, fraud or collusion, we reserve the right to suspend your account pending review. We also reserve the right to freeze your account balance and/or close your account permanently. We reserve the right to deduct from your account the amount of any payouts, bonuses or winnings due to activities which include:
Being linked to any form of collusion, cheating, unfair or deceitful practices, or any other criminal activity.
Placing bets or playing games on which you have maliciously gained an unfair advantage using collusive or deceitful practices.
That you have been found to engage in deceitful or collusive behaviors at other online gaming businesses, including charge backs or any criminal activities that we deem harmful to our establishment.
We become aware that you have "charged back" or denied any purchases or deposits that you make to your account.
Fraudulent practice is defined as any activity using stolen, cloned or otherwise illegal credit or debit cards to fund an account.
Criminal activity is defined as money laundering and/or any other illegal activity.
Unfair advantage is defined as the abuse of a fault, loophole or error in our software. This also includes the use of computers known as 'bots' (Robots or Spiders).
Collusion is defined as the use of multiple accounts to gain an unfair advantage as defined in these rules and limits per account. This includes the use of beards and movers as a way to place wagers.
We will conduct a thorough review of an account in which we believe collusion, cheating, fraud or illegal activities have taken place.
We reserve the right to inform our business units, processing companies, electronic payment providers or other financial institutions of any unlawful, fraudulent or inappropriate activity.
Privileged information that arises from any direct or indirect relationship with a horse racing participant including, but not limited to current or former racing stewards, jockeys, trainers, breeders, grooms, hot walkers or owners is considered an unfair advantage as this is not public knowledge. Any winnings which are the result of such privileged information shall be voided and, in Management's decision, the customer's account may be closed.
Rules Regarding Bonuses
Bonuses at BUSR are all subject to the following rules and regulations. Promotions and bonuses are restricted to one per deposit, per person, account, household, email, telephone number; same payment account and shared computer such as school, public library or workplace. No exceptions are made to this rule.
All promotions are for recreational players only, BUSR reserves the right to refuse or reverse any bonus given to any customer at any time if we determined that the customer is not eligible to take part in such promotion or was found to have abused our bonus and promotion program. Management reserves the right to refuse or retract promotions at any time to any customer regardless of the situation.
If a member has numerous accounts, all promotional bonuses or credits achieved and winnings produced from the account will be void and subtracted from the account.
Any customer found to be playing steam plays or who is found to be part of a gambling organization as well as those who misuse our bonus and promotions program will have all promotions canceled and all winnings from them will be forfeited and canceled.
Bonuses are only offered on new money deposited to an account, if a client has recently withdrawn funds from his account, the client will be required to make up the total amount of the payout in deposits before being eligible for a bonus.
Some bonuses may not be credited automatically, you must contact Customer Service upon having deposited to receive any bonuses or promotions.
Once a bonus has been received it cannot be forfeited by the customer and all terms and conditions regarding bonuses must be followed before any payouts are issued.
For rollover determinations, the lesser amount between the risk and the win on each eligible wager is the one that is measured.
Management reserves the right to refuse or retract any bonus at any time to any customer it believes is not eligible to receive such promotions.
The "risk" amount of a free play does not count towards any of the rollovers.
A rollover means you must wager the quantified amount at least that many times before requesting a payout. To calculate rollover, for example, if you deposit $100 (USD) and receive a 10% ($10) Reload Bonus with a 4 times rollover prerequisite, you would only need an amount of $440 (USD) ($110 of the deposit plus the bonus amount given x 4) in action before requesting a payout.
Rollover calculations start from the moment the first wager is placed and after a deposit has been made, unless otherwise specified in the bonus terms and conditions.
Rollover calculations do not include any pending wagers, only wagers that are settled and have a status of win or lose are tallied in the rollover report.
Wagers that result in a termination due to postponed events or the wager resulting in a push or no action do not count towards the rollover.
If a Free Play wager results in an annulment or no action, the customer must contact our wagering department by calling or by email to discuss the amount risked and have it refunded to your free play balance and permitted to be wagered at a later time.
If a customer funds his account while still having a balance from a previous deposit where a bonus was issued, the client must then finish all rollover and holding periods that are required by each of these deposits before a withdrawal can be made.
Any customer who is given a promotion – including no deposit promotions, contest winnings from affiliates or sponsor sites – must comply with all terms and regulations of such promotion before any withdrawal can be made.
Promotions cannot be used with other bonuses or promotions.
Restrictions apply to circled and limited games.
BUSR considers wagering on both sides of the game using any form of promotional money (free play or cash bonus) duplicitous conduct. This includes making bets of this nature with any one of our affiliated sites and any money won from playing both sides of the same game will be deducted along with any other promotional money endorsed to the customer. This may also result in annulment of the client's wagering account and the accruement of more penalties based on the offense.
Wagering on both sides of the same game for the sole determination of finishing a rollover obligation is forbidden and such wagers will not count towards the rollover. Any winnings resulting from such activity will be overturned.
All promotional offerings and policies are solely at the discretion of BUSR and are subject to annulment or alteration without warning or prior notice.
BUSR reserves the right to remove the availability of any offers to any customer at any time.
These Bonus and Promotions rules will supplant any verbal or written offering of any employee of BUSR.
General Bonus Rules
Deposit bonuses are optional. You must enter the "promo code" for the bonus you want to use when you make your deposit at the cashier and BUSR will add the bonus to your account immediately.
Casino Bonuses are optional. To use them you are required to enter the "promo code" for the bonus at the cashier when you make your deposit.
All bonuses have terms, rules and requirements listed on this page. Once you accept a bonus, BUSR deems that you have read and agreed to all of them.
All stipulations, including rollover requirements must be met prior to requesting a withdrawal.
At BUSR the minimum rollover requirement is defined as [deposit + bonus] multiplied by [number of the required rollover].
The maximum bonus granted by BUSR is $1,000 (USD), unless it is stipulated differently in the rules and regulations for the specific bonus. Also, you must deposit a minimum of $100, regardless of the deposit method, to qualify for a bonus.
There are promotions that require higher rollover requirements. Before requesting a withdrawal, you must adhere to these requirements.
Bonuses do not have inherent cash value until you meet all stipulations, including rollover requirements; therefore, bonuses can't be transferred.
You are only eligible for a reload bonus on the amount of your deposit if you've taken a payout or payouts in the last 15 days that exceeds your cumulative withdrawal amount.
If any pattern of "recycling/churning" or "bonus arbitrage," is detected, BUSR will remove all bonuses and winnings from your account without notice. "Recycling/Churning" is defined as money you withdraw and re-deposit in an effort to accrue or profit from bonuses. "Bonus arbitrage" is defined as accounts you manage in an effort to accrue or profit from bonuses.
Bonuses are for recreational players. BUSR reserves the right to deny and/or cancel bonuses and winnings from bonuses without further explanation if management determines you are a non-recreational player, arbitrage better, scalper, bonus arbitrager or part of a syndicate.
BUSR reserves the right to suspend any bonus at any time without explanation.
Please understand and agree to all policies prior to accepting any bonus. Feel free to email BUSR's customer service at support@busr.com if you have any questions regarding BUSR's policies.
Non-Deposit Bonuses
All bonuses are unique at BUSR, but unless otherwise stipulated on a bonus specific Rules and Regulations, the following restrictions will apply to any non-deposit bonus:
A 5-time rollover based on the free play given or the winning amount (whichever amount is largest) will apply for all Free-Play bonuses with no deposit attached.
All Cash bonuses have a 5-time rollover based on the bonus amount.
To qualify for a Non-Deposit Bonus, the player must be an active client for at least 30 days and have an average of at least 7 bets per week.
If the bonus is a Casino Bonus; the player must complete the necessary action and requirements on the corresponding game (if exclusive).
Non-deposit casino bonuses have a maximum cash out of $100 (USD). The remaining balance will be forfeited.
All Non-Deposit bonuses will have a maximum cash out, your cash out will not exceed more than 10 times the original cash bonus/free play amount. The remaining balance will be forfeited.
All questions and inquiries regarding our policies can be addressed by emailing BUSR customer service at support@busr.com.
Cash Bonus Rules
We offer cash bonuses on select promotions from time to time, these promotions have a limited time offering to qualified clients.
All rollover requirements for cash bonuses must be met by wagering on sports and does not include casino or horse racing action unless expressly stated in the bonus rules. As with all bonuses and promotions offered by BUSR, all rollover and play through periods must be accomplished before any withdrawal can be made.
Players who receive Promotional $10 (USD), $15 (USD) and $25 (USD) Free Plays must comply with the following rules:

Players must complete a 15x rollover.
Players must wait 30 days before withdrawal.
Rollover requirements must be met in full in order to cash out or receive any other bonus.
There's a maximum withdrawal of $250 (USD) allowed with this bonus.
Free Play and Free Wager Rules and Regulations
You can use free plays on any sport, straight bets, parlays, props or live betting.
You can't buy points on free plays.
BUSR displays the free plays balance separately from your cash balance.
You must meet all rollover requirements by wagering on sports, which excludes casino, live betting or horse racing action.
The maximum Payout from a Free Wager will be $500 (USD), all rollover requirements need to be reached before requesting a payout.
Free wagers are restricted to specific amounts and specific markets. You may not be able to use Free wagers on certain markets or bets as stipulated by the rules of the free wager.
Free wagers are valid for a specific time frame or until wagering on the accosted market has closed.
Free-Play Restrictions
BUSR does not allow use of free plays on controlled or restricted games.
BUSR's maximum wager limits for each sporting event also apply to free play funds.
Free plays are limited to winnings.
The maximum payout for winning with Free Play will be $500 (USD).
Casino Bonus Eligibility
BUSR's Flash Casino bonuses are intended for recreational bettors only. BUSR may revoke bonuses or impose further sanctions on players deemed to be professional or abusing the bonus system at the discretion of BUSR management.
If BUSR believes a customer is not eligible for the bonuses or promotions he or she has collected, BUSR reserves the right to refuse or reverse any bonus and winnings that result from bonuses, at any time.
Rollover Calculation
The formula for the rollover calculation for free play, match play or cash bonuses at BUSR is as follows:
The original deposit plus the transfer fees (when applicable), plus bonus amount given, multiplied by the definite rollover requirement of the bonus.
Significant Notice: Maximum winnings permissible from any wager made with a bonus are $5,000 (USD) and any amount won above this figure will be overturned. All rollover and hold periods must be accomplished before a payout can be made.
Significant Notice: Maximum winnings permissible from any wager made with a free play are $500 (USD) and any amount won above this figure will be overturned. All rollover and hold periods must be accomplished before a payout can be made.
Cash Out a Bonus
When we offer a special promotion, our bonuses can range from 10% and up based on your deposit. To be able to request a payout, below are the rollover requirements for the bonuses we offer.
Remember, the rollover is the deposit plus bonus amount multiplied by a number below.
10% – 5 time rollover requirement.
20% – 5 times rollover requirement.
25% – 5 times rollover requirement.
Referral Bonus Rules
Please read the following rules as they pertain to all referral bonuses given by BUSR.
The member's account must be in good standing to participate in the Refer a Friend promotion.
You will not be credited any bonuses for referring a friend who already has an account at BUSR.
25% Refer a Friend bonus can be claimed as either a Sportsbook or Casino bonus to your account after the friend you have referred has opened a new account and made an initial deposit. The funds will show up a few minutes after your friend's deposit.
The maximum bonus you can receive per friend is $250.
Members cannot open multiple accounts in order to abuse promotions and bonuses.
If your friend disputes his deposit to BUSR and cancels his account without playing, then you will not be entitled to any bonus for the referral.
You have to wager the Refer a Friend bonus cash 5 times before withdrawing the funds.
Management reserves the right to modify or cancel this promotion at any time. General house rules/terms and conditions apply.
Rules Regarding Specific Offers
Please log in to the Club House to see the terms and conditions for all promotions and bonuses.
Deposits Terms
All deposits are subject to management approval, BUSR reserves the right to accept, deny or reverse any deposit.
The use of credit cards and other electronic payment methods is restricted to one account, meaning the same credit card number or bank account cannot be used by more than one client.
Credit cards must be in the name registered to the account with BUSR. In the event that the customer wishes to use a card that is not in their name, the deposit must first be approved by management and proper documentation for the card must be on file prior to the deposit being made.
Deposit limits vary depending on the method used, any limit increase must be approved by management and BUSR reserves the right to request sufficient documentation from any customer to validate the identity of the client before any limits are increased. Providing such documentation will not guarantee any increase in the deposit limits.
Deposit options may vary depending on your location, for a complete list of deposit options please contact our Customer Service team at 1-844-444-BUSR (1-844-444-2877) or via email at support@busr.com.
Any customer found to be committing fraud of any kind with credit cards or any other electronic payment method will be subject to criminal and/or civil prosecution.
All winnings resulting from the illicit use of credit cards or any other electronic payment method will be automatically forfeited.
The descriptor on your credit card billing statement may vary from one transaction to the next as we use different processing companies. If you are unsure about a charge reflected on your statement, please contact our security department to inquire about the charge cashier@busr.com.
Credit card deposits are subject to a 30 business day hold before any payout can be processed and proper documentation will be required.
Currently the default currency in our cashier is USD, if your account is in a different currency you must contact our customer service department prior to any deposit to receive the proper instructions.
Deposits that are not processed through our cashier will not be credited automatically; it is the responsibility of the customer to contact our customer service department in order to inform them of the deposit to ensure it is credited in a timely manner.
BUSR is not responsible for deposits, which are not notified to its customer service department.
In the event funds are credited to a customer's account in error, it is incumbent upon the customer to notify BUSR of said error without delay. For accounts with negative balances, BUSR reserves the right to cancel any pending plays, whether placed with funds resulting from the error or not.
In the event of delays due to transaction errors or third party processing delays BUSR cannot not be held liable for any wagers missed due to the delay.
Fees will be covered on person-to-person transfers of $300 (USD) or more.
BUSR will not be held liable for any additional fees charged by the members banking institution such as but not limited to: cash advance fees, international processing or currency fees, overdraft fees or administrative banking fees.
BUSR relies on the service of third party processors and cannot be held liable for any failure on their part.
The availability of deposit methods are subject to change without prior notice.
The house deposit rules will supersede any verbal or written offering of any employee of BUSR.
Online Gaming activities may be restricted or not permitted in some jurisdictions. It is the sole responsibility of each customer to inform themselves of their local laws before funding their accounts.
How To Fund Your BUSR Account
There are several easy deposit methods to fund your account. Please feel free to contact us anytime at 1-844-444-BUSR (1-844-444-2877) should you need any help with your deposits.
If you are sending a person-to-person money transfer, you will be charged a fee to send funds. We'll cover the transfer fees on applicable deposits.
If you are using your credit or debit card, please read the deposit policies carefully, as there are certain requirements that you must complete prior to requesting payout from your account, including a copy of a valid photo ID, copies of the front and back of each card used, and a signed verification form.
From time to time, some credit card companies will charge a foreign transaction fee when you make a deposit into your BUSR account. If you are charged a foreign transaction fee, simply take a screenshot of said fee and email it to support@busr.com and the foreign transaction charges will be credited to your racing account.
Gambling may be restricted in some jurisdictions and may not be permitted where you live. It is your responsibility to know and comply with any local laws before funding your account.
Person-to-Person Money Transfers
You can deposit funds into your account by sending a person-to-person cash transfer at a local outlet near you.
Here are the easy steps to send a money transfer:
Contact the Customer Service team to get the transfer details.
Go to a local money transfer outlet to pay for and send your transfer.
Call us back to give your confirmation number and the funds will be posted to your account in 45 minutes to 1 hour.
Please note:
The minimum deposit is $100 (USD) and the maximum is $740 (USD), per transaction (see limits below).
When depositing via this method, you will be charged a fee for the money transfer; however, we will reimburse the transfer fees for deposits above $300 (USD).
It may take up to 15 minutes for the funds to reflect in your account balance after you provided us with the confirmation number.
Fees covered on deposits of $300 (USD) or more.
Min: $100 (USD).
Max: $740 (USD).
For details on sending a larger person-to-person money transfer amount please contact customer service.
Deposits Made With Your Credit Card
You can deposit money into your account using any Visa or Mastercard branded credit card or check/debit card. Please ensure the card is eligible for international purchases by calling your credit card company to request that you can make foreign purchases with your credit/debit card.
When you request a payout, you may need to complete one credit card verification form for each credit card you use to deposit funds along with the following documents:
A photocopy of your government issued photo ID (e.g., your driver's license).
Photocopies of the front and back of your credit card.
Please Note:
When you complete a credit card deposit, the descriptor for this transaction will appear on your credit card statement. Please take a moment to take note of the descriptor for your records.
It may take up to 10 business days for the transaction to show up as a completed debit on your credit card statement. It may show as a pending "Pre-Authorization" until the transaction has been debited by us. A pre-authorization is a temporary "hold" on your card's available balance for the deposit amount you have made. This is done for any deposit attempts that are started but have yet to be completed and can often apply to failed deposit attempts. This is very common for electronic (online) transactions. Once the payment is completed, the "hold" will be replaced by an actual charge on your card. If the transaction failed initially, the pre-authorized funds will become available in your card's balance.
Many credit and debit cards have restrictions on online purchases or for use on gaming sites. If your card issuer restricts use on our site, we would suggest viewing alternate deposit options that may be convenient to you.
Deposits you make within a few days of one another may be deducted from your balance on the same day. While these may appear as 'duplicated' deposits, we ask that you carefully review your statement or contact us for clarification as this is most likely not the case.
If you should require help with reconciling your credit card statement, do not recognize a transaction that is appearing on the statement or feel that you may have been over or under charged, please contact us at 1-844-444-BUSR (1-844-444-2877). We are happy to help you and want to make sure everything is in order.
Remember that before you receive a payout, you may need to provide a completed and signed credit card verification form. If you want to avoid unnecessary delays, we encourage you to send in any documents promptly.
If you are depositing using a Visa credit card, you might be prompted to enter the Verified By Visa password associated with your card.
If you need further assistance, please feel free to call us toll free 1-844-444-BUSR (1-844-444-2877).
Withdrawal Rules
Payouts are processed daily on a first come, first served basis. As long as all pre-authorized or pending deposits to your account have been settled, we can process your payout in as little as 24 hours.
Make sure that you have a sufficient balance in your account to cover your payout amount until the funds are removed from your balance, to avoid the payout from being declined. After a payout has been processed and the funds have been debited from your BUSR account, the transfer times and fees can be found below.
Payout requests are accepted Monday through Sunday between the hours of 8:00 AM and 2:00 PM EST. Payouts will be sent Monday through Friday during normal banking hours.
Withdrawals will only be processed in the name of the account holder, in the event that a client cannot receive the funds in his/her name, a written signed authorization must be received with the name of the person to whom the payout is endorsed. In addition to this, a valid photo ID of the account holder must accompany the authorization form.
The minimum withdrawal amount is $100 (USD). The minimum withdrawal amount may be less than $100 (USD) if requested in Bitcoin. Please email or call for details.
We do not take payouts over the phone.
Customers must provide account number and password when requesting a payout.
All terms and conditions including rollovers, play through periods and required documentation must be completed and received before a payout can be processed.
All payout requests have a processing period of a minimum of 48 hours. The submission of a request by a representative on behalf of the customer does not guarantee approval.
All payouts are subject to the funds being available in the account at the time the debit is made; if funds are not available, the payout request will be cancelled.
BUSR reserves the right to request proper documentation to verify the account holder's identity, including a valid photo ID and copies of credit cards before processing a payout. Failure to provide this documentation will result in the cancellation of the request.
Customers are responsible for ensuring that all personal information including physical mailing address, phone number and email address are updated and correct. In the event that a redirect or resend of a payment due to an incorrect address is necessary, there is an administrative fee of $50 (USD).
Although we strive to process payouts as quickly as possible, some methods may take longer to process due to transfer procedures and any payout may take up to 10 to 14 business days to be processed.
Depending on the deposit method and/or bonuses received, some payout requests may be subject to additional holding periods of up to 30 days.
Payouts may be sent via another method than the one originally requested on certain occasions, we will notify you of any changes should they be necessary.
Payout requests may be cancelled or modified prior processing, once processed. however changes are not allowed. In the event that a payout is cancelled at the customer's request, any applicable fees will not be reimbursed.
Withdrawal methods, limits and fees are subject to change without prior notification.
Non-cashable bonuses will be reversed at the time of a withdrawal.
BUSR reserves the right to deny, reverse or hold any withdrawal request if fraud is suspected or if terms and conditions are violated in any way.
Withdrawal rules will have precedence over any verbal or written offering by any employee of the company.
BUSR reserves the right, at our sole discretion, to terminate or modify these rules at any time without notice.
Additionally:
If you have pending deposits to your account, we cannot process your payout until we receive the funds. This may take up to 5 business days after you make a deposit.
You may request a maximum of one withdrawal per method each week.
Make sure that your address and account information is correct before making a payout request.
You may be required to submit additional information for account verification.
All rollover requirements must be met in order to process a payout. Fees are subject to change without prior notice, however we will take all precautions to ensure you are informed of any change in the fee structure.
Method
Amount
Fees
Time Frame
International Bank Wire
$100- $500
$15
Review: 2 business days + 5 to 7 business days to process
$500.01- $5,000
$35
Bitcoin
$25 – $5,000
Free
3 Business Days Total (2-days for Internal review and 1-day Processing time)
Casino Bonus Rollover Calculation
When you receive a casino bonus, you will need to place a certain amount of bets/action in order to complete your rollover and request a payout. Each casino game has a different percentage that is contributed to your rollover requirement. This is outlined in the table below:
Wagering Contributions
% Contribution
Craps, All Progressive Jackpot Games
0%
Pirate 21, Blackjack Super 7, Pai Gow, 21 Burn, Ride'm Poker, All forms
of Keno, Red Dog, Pontoon, Top Card Trumps
5%
Baccarat, Blackjack (American & European), Poker 3, Oasis Poker, Single
Deck Blackjack, Triple Edge Poker, Caribbean Poker, Three Card Poker, Video Poker (All types)
10%
Roulette (All versions), Draw High-Lo, 3 Card Rummy, Virtual Racebook
20%
Scratcherz, Predictor, Slots & 3D Slots (progressive jackpot games
excluded)
100%
• Please note that there may be exceptions to the above table. Some games are excluded from a rollover requirement. If there are any winnings from these games the bonus amount may be removed from the players balance.