Dolphins vs Bengals Same Game Parlay Pick & Prop Predictions
You might think after the big numbers that Tua Tagovailoa put up against the Ravens that he has been nailing the over on his props this year. He hasn't. So far he has 8 props that went over and 10 that went under. The only consitentcy he has shown is on his rushing yards props which have gone under in all three games. People still think he is a running quarterback but this season he has used his mobility to keep plays alive for the pass instead of running for yards. Joe Burrow has actually been better for betting on over props going over 12 times and under 6 times. This makes sense because the Bengals have been behind or in close games this year. He has gone over on passing attempts in all 3 games.
At wide receiver Tyreek Hill still gets more media notice but Jaylen Waddle is the one to bet on to hit the over on props. He has gone over on 7 of 9 player props including over in all three games on receiving yards. This is a good early season correlation for Tyreek Hill and how the Dolphins do against the spread. When the Dolphins cover the point spread Tyreek Hill has gone over in all six player props but when the Dolphins lost against the spread he has gone under on all three props.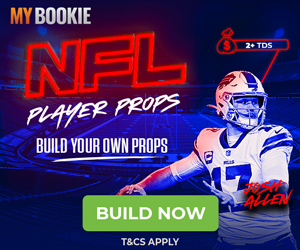 Dolphins vs Bengals Player Prop & Game Predictions
Score Prediction : Bengals 30 – Dolphins 27
While the predicted score falls within the 4.5 points I am playing the total to go over 47.5. The Dolphins offense is exciting however the defense can give up big plays and this is a time for the Bengals three wide offense to put up some points.
See player prop betting results here
Player Prop Bet Predictions using MyBookie Odds
Game OVER 47.5 (-110) – willing to go to 49.0
Joe Burrow Passing Yards OVER 275.5 (-114)
Tee Higgins Receiving Yards OVER 63.5 (-114)
Hayden Hurst Receiving Yards UNDER 26.5 (-112)
Read more from XSportsbook.com
Playing Blackjack at Bodog with a Bodog Bonus Code As one of the most beloved casino games, blackjack combines skill, strategy, and luck to create an exhilarating gaming experience. In this article, we'll delve into the benefits of utilizing a… Read more »
Week 4 NFL Prop Bet Picks 2023 Same Game Parlay Betting Correlations NFL Week 4 Prop Bet Picks 2023 Week 4 NFL Prop Bet Picks 2023 Betting Breakdown 5 games 13 straight bets 5 same game parlay bets 9 player… Read more »
Sports Betting Welcome Bonuses
| Sportsbooks | Promotion | Promo Code | Redeem |
| --- | --- | --- | --- |
| | 50% Deposit Bonus | BET1000 = 50% Up to $1,000 | Redeem |
| | 50% Deposit Bonus | BVD1000 = 50% Up to $1,000 | Redeem |
| | 100% Deposit Bonus | INSIDERS =150% Up to $2,500 | Redeem |
| | 50% Deposit Bonus | MYB50 = 50% Up to $1,000 | Redeem |
| | 50% Deposit Bonus | SP1000 = 50% Up to $1,000 | Redeem |
| | Xbet Welcome Bonus | XB100 = 100% Up to $500 | Redeem |
Week 1 NFL Prop Bet Picks 2023 Best Player Prop Predictions Week 1 NFL Prop Bet Picks 2023 Week 1 NFL Prop Bet Picks 2023 will based on our exclusive betting model with over 75,000 player prop bet results since… Read more »