Chiefs vs Bucs Same Game Parlay Picks & Prop Bet Predictions
The offenses are not what they used to be. Both teams really need to have the receivers play better if they are going to make another Super Bowl run. So far this season Patrick Mahomes has been a strong under play on his player prop bets going over 5 times and under 13 times. What about Brady? Another strong under play on his props going over on 4 while going under on 14. It is obvious that Brady misses Gronk and will continue to all season.
The Bucs defense has been able to keep them in games so far this season but it only takes a few big plays by the opposition to put Tampa in a hole they can't get out of. Tampa should be able to keep the game close in this game the same way they did against the Packers. Mahomes and Rodgers have very similar playing styles so the Bucs get a break in preporation this week.
Kansas City coaches may have acted like the new receivers were just as good as the ones they had last season but it only takes watching the Miami Dolphins offense to know that isn't true. They miss Tyreek Hill and what he could to only any play. Add to that, Travis Kelce suddenly looks like all of those hits he took have slowed him down a step.
Kansas City Chiefs vs Tampa Bay Buccaneers Player Prop & Game Predictions
Score Prediction : Chiefs 23 – Bucs 20
Taking the Chiefs as a money line dog.
See player prop betting results here
Player Prop Bet Predictions using MyBookie Odds
Chiefs money line
Patrick Mahomes Passing Yards Under 264.5 (-115)
Tom Brady Passing Yards Under 269.5 (-115)
Leonard Fourneette Rush & Rec Yards Over 93.5 (+100)
Travis Kelce Receiving Yards Under 67.5 (-115(
.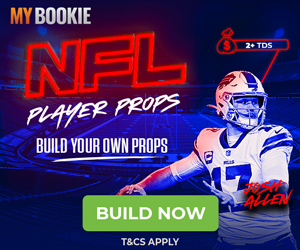 Read more from XSportsbook.com
Playing Blackjack at Bodog with a Bodog Bonus Code As one of the most beloved casino games, blackjack combines skill, strategy, and luck to create an exhilarating gaming experience. In this article, we'll delve into the benefits of utilizing a… Read more »
Week 4 NFL Prop Bet Picks 2023 Same Game Parlay Betting Correlations NFL Week 4 Prop Bet Picks 2023 Week 4 NFL Prop Bet Picks 2023 Betting Breakdown 5 games 13 straight bets 5 same game parlay bets 9 player… Read more »
Sports Betting Welcome Bonuses
| Sportsbooks | Promotion | Promo Code | Redeem |
| --- | --- | --- | --- |
| | 50% Deposit Bonus | BET1000 = 50% Up to $1,000 | Redeem |
| | 50% Deposit Bonus | BVD1000 = 50% Up to $1,000 | Redeem |
| | 100% Deposit Bonus | INSIDERS =150% Up to $2,500 | Redeem |
| | 50% Deposit Bonus | MYB50 = 50% Up to $1,000 | Redeem |
| | 50% Deposit Bonus | SP1000 = 50% Up to $1,000 | Redeem |
| | Xbet Welcome Bonus | XB100 = 100% Up to $500 | Redeem |
Week 1 NFL Prop Bet Picks 2023 Best Player Prop Predictions Week 1 NFL Prop Bet Picks 2023 Week 1 NFL Prop Bet Picks 2023 will based on our exclusive betting model with over 75,000 player prop bet results since… Read more »